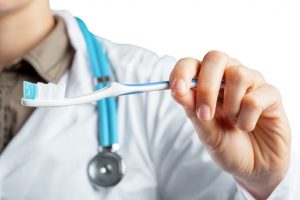 You want to protect your health, so you strive to eat a balanced diet, exercise a few times a week, and get enough sleep. But did you know there is another simple thing you can do to protect your body against the ravages of disease? As your dentist in Gainesville explains, there is an intimate connection between your oral hygiene habits and your overall health.
Gum Disease
Periodontal (gum) disease is a common condition that affects roughly half of adults in the U.S. It is frequently caused by poor oral hygiene habits, such as inadequate brushing and flossing. For most people, gum disease presents only mild symptoms. However, if the problem is allowed to worsen, it can lead to significant oral health problems. It can also have serious consequences for the rest of your body because the gums are a gateway to your heart, lungs, and brain. As bacteria from periodontal disease sneaks into your bloodstream, it may cause:
Cardiovascular disease
Dementia
Preterm birth
Diabetic complications
Digestive Problems.
The digestive process begins in your mouth. Chewing your food makes it easier for the rest of your body to process the nutrition you take in and use all those vitamins and minerals to keep you strong and healthy. However, if poor oral hygiene habits have caused your teeth to decay, you may not be able to chew your meals properly. This places extra strain on your stomach and intestines, and it may lead to acid reflux, bloating, and more.
Respiratory Problems
Good oral hygiene habits help to keep harmful bacteria out of your mouth, but if you neglect those good habits, all of those icky little microbes are allowed to run rampant. This could lead to a host of oral hygiene problems, including bad breath and tooth infections. It also becomes very easy for you to breathe in some of that bacteria; you may be at an increased risk of contracting pneumonia.
Keys to Good Oral Hygiene
Fortunately, most people find it quite easy to adopt a good oral hygiene routine that keeps the above problems at bay. To protect your mouth and your overall health, please be sure to:
Brush your teeth twice a day with a fluoride-containing toothpaste.
Floss once a day to remove plaque and bacteria from between your teeth.
Drink lots of water to encourage saliva production and rinse away bacteria and food particles.
Avoid tobacco products, which can cause dry mouth and lead to increased tartar on your teeth.
Visit your family dentist in Gainesville twice a year for a professional teeth cleaning.
Your mouth's health and your overall health are inextricably linked. Preventing some serious conditions may be as simple as supercharging your daily oral hygiene routine!
About the Dentist
Dr. Gabriel Nossa is proud to serve as your dentist in Gainesville. He is always happy to educate his patients on how they can develop good habits that benefit their teeth, gums, and overall health. If you would like to ask him questions about oral hygiene or anything else that relates to your smile's well-being, please contact our office at contact us at 352-332-8133.