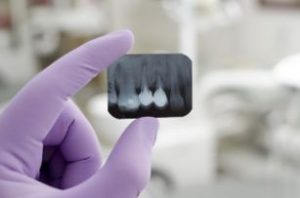 Do you ever go in for a checkup and find yourself wondering why your dentist wants to take X-rays? In this blog, you'll learn about the purpose behind routine X-rays and how a dentist in Gainesville uses them to recommend the best treatment and minimize the amount of dental work you need in the long-term. Keep reading to learn about why X-rays are necessary, when each type of X-ray is recommended, and why they're actually in your best interest!
Why Are X-rays Necessary?
During a dental exam, a dentist visually inspects your mouth, but they can't see anything underneath the surface of your teeth, soft tissues or jaws. X-rays show them what they can't see with the naked eye.
This diagnostic tool means that problems are found in their early stages when they're small and easier to fix. For example, you might think that you would feel a cavity right away, but most people don't feel them until they've become much larger (and require more extensive treatment to repair).
In addition to finding cavities, X-rays also allow dentists to make sure your jawbones are providing adequate support for your teeth. They can also check for pathology in the jaws such as a cyst or tumor.
Finally, you'll be glad to know that modern digital X-rays use about 90% less radiation than traditional X-rays. In fact, it's estimated that dental X-rays expose you to the same amount of radiation as a short, 1-2 hour flight on an airplane!
What's the Difference Between Various Types of X-rays?
Bitewing X-rays – Usually done once each year, bitewings show the areas in between the back teeth. They do not show the roots of the teeth. 4 bitewings (or 2 on each side) are standard.
Periapical X- ray (PA) – If you have a localized problem that only involves a single tooth, a single X-ray called a PA will be taken that shows an up-close view of the entire tooth, including the root.
Full-mouth – Whereas bitewing X-rays only show the back teeth, a full mouth set shows the entire set of teeth, including the roots. They're usually recommended every 3-5 years.
Panoramic – This is sometimes done instead or in place of a full mouth set (and would also only be done every 3-5 years). It shows all of the teeth and roots, the upper and lower jaws, temporomandibular joints (TMJ), and sinuses. It gives a Gainesville dentist a comprehensive view of the entire oral cavity to make sure everything is healthy.
X-rays are crucial for finding a multitude of oral health problems in their early stages. When it comes to maintaining good oral health, the benefits of X-rays far outweigh any risks!
About the Author
Dr. Gabriel Nossa is a general, cosmetic and restorative dentist in Gainesville who believes in the importance of early detection. He uses X-rays only when necessary to diagnose problems in their beginning stages and help his patients avoid more extensive dental work down the road. If you have any other questions about dental X-rays, he can be contacted via his website or at (352) 332-8133.