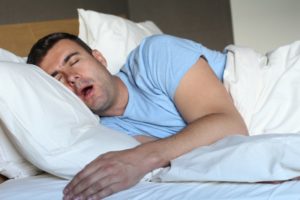 It's common knowledge that seeing your dentist regularly plays a key role in keeping your smile healthy. However, your dentist cares just as much about your overall health as your beautiful pearly whites. They can identify warning signs of a wide variety of systemic health issues just by looking at your mouth. Some dentists are specially trained to help identify and treat a serious condition known as sleep apnea. Read on to find out how your Gainesville dentist can help improve your sleep patterns and quality of life.
What is Sleep Apnea?
Sleep apnea is a condition that causes repeated interruptions in breathing throughout the night as you sleep. These pauses happen when the muscles in the back of your throat relax and collapse. This can block your airway for a few seconds or potentially even a minute or longer. Frequently waking up throughout the night to gasp for air dramatically diminishes sleep quality and can increase your risk of numerous systemic health issues.
How Can My Dentist Help?
Since sleep apnea occurs while you're asleep, it can be difficult to identify on your own. However, this condition leaves tell-tale signs in your mouth that your dentist can detect, such as:
Indications of bruxism: Grinding your teeth in your sleep (bruxism) sends a message to your brain to wake up and take a breath. Your dentist will closely inspect your enamel for worn-down, chipped, or cracked areas.
Spike in cavities: The pressure on your teeth from bruxism can weaken them and make them more susceptible to decay, which could lead to an increase in cavities.
Redness in the throat: Irritation in the back of the throat can be caused by chronic snoring, which is a very common symptom of sleep apnea.
If you report issues like fatigue, sleeplessness, or snoring and your dentist discovers any of the above issues, they may recommend that you see your general practitioner or take a sleep study for an official sleep apnea diagnosis.
Sleep Better & Breathe Easier with an Oral Appliance
Sleep apnea doesn't just interfere with your sleep—it can pose a threat to your overall health as well. This sleeping disorder has been linked to:
Type Two diabetes, obesity, and metabolic syndrome.
High blood pressure, heart problems, and strokes.
Increased risk of car accidents and poor judgement.
Did you know that not only can your Gainesville dentist help you identify your sleep apnea, but they can help you treat it as well? One of the most popular treatments is a custom-fit oral appliance. This comfortable device that looks somewhat like a mouthguard pushes the lower jaw forward to prevent pauses in breathing. Your dentist will create an oral appliance that uniquely fits your mouth to ensure it is as easy to wear as possible.
Sleep apnea can negatively impact both your health and your quality of life. Regain your restful sleep and your energetic smile by talking to your dentist about an oral appliance.
About the Author
Dr. Gabriel Nossa is committed to helping the smiles of Gainesville, FL achieve excellent oral health that improves their quality of life. He is a graduate of the prestigious University of Florida College of Dentistry and an active member of several organizations, including the American Dental Association and the Florida Dental Association. With a wide variety of services, he is proud to offer treatments for sleep apnea, TMJ disorder, periodontal disease, and many more. To learn more about sleep apnea, feel free to contact him via his website or at (352) 332-8133.