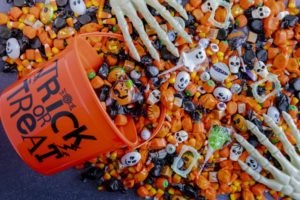 Everybody enjoys a sugary treat – especially children. However, too many sweets can be detrimental for their oral health. After all, no kid wants to spend extra time in the dental chair getting cavities filled. The good news is that your kids don't need an excessive amount of candy this Halloween to have fun. Your dentist in Gainesville shares some fun alternatives to candy that your family can try out during this spooky season.
Glow Sticks
Instead of sugary candy, glow sticks can be a fun alternative. Not only can these inexpensive accessories be fun to brighten up your kids' costumes with, but they can make your children more easily seen on Halloween night to cars passing by, helping them to stay safe.
Bubbles
Little Halloween-themed bubble bottles can be found at a party store near you. You could also find some plain ones and decorate them with some spooky stickers. These little goodies provide a lot of fun for little ones.
Spooky Accessories
Whether you choose plastic vampire and zombie teeth or you go for spider rings, these accessories can made a great addition to any Halloween costume while also being a fun inexpensive option for filling goody bags.
Temporary Tattoos
Not only are temporary tattoos safe for kids, but they are tons of fun to apply and show off at school afterwards. Pick up a pack of fun, Halloween-themed temporary tattoos for the kiddos to decorate themselves with.
Slap Bracelets
You loved them when you were their age, so their bound to find some entertainment out of them. Look for some festive slap bracelets and other accessories to get into the Halloween spirit.
Play-Doh
What's more fun to play with than a fresh container of brightly colored Play-Doh? Opt for either Halloween colors or a wide assortment. Either way, kids will love molding exciting new creations out of it.
Printed Activities
Candy is delicious, but it doesn't last all the long, especially when it finds itself in the hands of a child. Instead, you could try some fun assorted activities, like coloring pages, puzzles, and brain games that can keep your kids occupied for hours.
Sugar-Free Gum
If you want to get your kids a sweet treat without causing harm to their smile, choose sugar free gum. It is just as tasty and actually has some benefits for teeth, like increasing saliva flow.
Not matter how you plan on spending Halloween with your kids this year, try some of these non-candy alternatives. You don't need an excess of sweets to celebrate the spooky season.
About the Author
Dr. Gabriel A. Nossa earned his DMD from the University of Florida College of Dentistry and has completed numerous hours of continuing education. He takes part in a variety of professional organizations including the American Dental Association and the Florida Dental Association. For more information on keeping your child's teeth healthy or to schedule an appointment, visit his website or call (352) 332-8133.