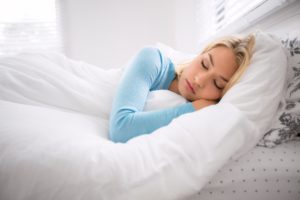 Are you struggling to feel well-rested besides getting the recommended 7-8 hours of sleep each night? Has your quality of life declined because you can't get a good night's rest? It might not be from a bad mattress or extra stress. Instead, you might be dealing with obstructive sleep apnea. Don't worry, your dentist in Gainesville can help you achieve peaceful nights throughout the holidays with the right treatment and a few extra tips.

What is Obstructive Sleep Apnea?
Obstructive sleep apnea is a condition that causes several interruptions in breathing frequently throughout the night. The soft tissues in the back of the mouth and tongue can block the airway, causing an obstruction that limits breathing. Many people aren't aware they have sleep apnea because they are asleep when the pauses occur; however, it can cause a variety of symptoms throughout the day that can indicate there's a problem, such as:
Loud, chronic snoring
Restless sleep
Morning headaches
Daytime sleepiness
Mood changes
Difficulty concentrating
Treating Obstructive Sleep Apnea
After receiving a diagnosis, you'll be referred to your dentist for sleep apnea therapy in Gainesville. Traditionally, a CPAP machine is used to keep the airway open. A machine delivers a steady stream of air pressure through a mask worn over the mouth or nose to prevent the soft tissues from collapsing.
Although it's effective, it has a low compliance rate because it can be bothersome. As an alternative, you might be a candidate for an oral appliance. The custom-fit device repositions your lower jaw forward to prevent interruptions in breathing. It's a comfortable and effective way to treat mild-to-moderate forms of sleep apnea. Many patients report seeing an improvement in their symptoms almost immediately upon beginning their treatment.
Tips for Managing Sleep Apnea
Whether you're new to living with sleep apnea, or you've dealt with it for several years, it can be challenging to get the rest you need during the holidays. You can ensure you breathe easier and sleep soundly by keeping a few tips in mind:
If you'll be traveling for the holidays, plan for any time zone changes to help adjust your sleep schedule
If you'll be driving to your destination, get plenty of rest the day before you leave.
Don't forget to take your oral appliance, storage case, and any cleaning products with you.
Create a good sleep environment, even if you're away from home.
Sleep Better for the Holidays
The holiday season is stressful enough without feeling tired all the time. Invest in your quality of life by getting the treatment you need for your obstructive sleep apnea.
About Dr. Gabriel A. Nossa
Dr. Nossa earned his dental degree at the University of Florida College of Dentistry. He also holds advanced training in general dentistry. Dr. Nossa remains well-versed in many areas of specialty, like oral appliance therapy. If you need treatment for sleep apnea, contact our office today to schedule an appointment.