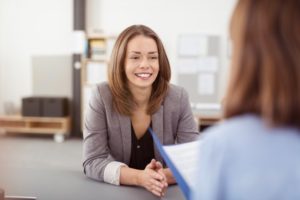 When it comes to your professional success, it's no secret that first impressions mean everything. If you walk into a job interview or a salary negotiation and you avoid smiling because you're self-conscious about your teeth, you may not achieve the career success you want. On the other hand, a bright, confident smile can help you land your dream job, close a sale, or earn a higher salary. Keep reading to learn how cosmetic dentistry in Gainesville can give you the radiant smile you need to reach your career goals.
What a Great Smile Says to Employers
Your smile says more about you than you might have realized, especially when it comes to the professional world. Researchers have found that job interviewees with a more "attractive" smile were often considered better candidates, even if they were less qualified. This is because people tend to attach positive attributes, such as intelligence, wealth, and happiness, to people with great smiles.
For example, people with white teeth are largely considered younger, more attractive, and more qualified for the jobs they apply for. Straight teeth also give the impression that you are healthier and less likely to take time off work to visit the dentist, making you a more valuable job candidate. If you wish your teeth were whiter and straighter, your cosmetic dentist can help.
How Your Dentist Can Improve Your Smile
In today's competitive job market, it makes sense to give yourself every advantage you can. Here are a few ways that cosmetic dentistry in Gainesville can help:
Teeth whitening – Instead of store-bought products that barely work, your dentist can brighten your smile by several shades in just one appointment with professional teeth whitening.
Veneers – Your dentist can place thin porcelain shells called veneers, over the fronts of your teeth to instantly correct chips, cracks, gaps, discoloration, and more.
Direct bonding – Using a tooth-colored composite resin, your dentist can cover up minor flaws quickly and easily.
Invisalign – Rather than wearing a mouthful of metal to straighten your teeth, Invisalign clear aligners can shift your teeth much more discreetly and comfortably.
Invest in Your Smile Today!
Since people are always going to judge you for your smile, why not make sure yours looks its best? Call your dentist today so you can schedule a consultation and find out which cosmetic treatments could best give you a perfect set of pearly whites. It will help you feel confident enough to achieve the kind of professional success you've been dreaming of!
About the Author
Dr. Gabriel Nossa obtained his Doctor of Dental Medicine degree from the University of Florida College of Dentistry. Since then, he has completed post-graduate courses in many areas of dentistry, including cosmetic treatments. At his Gainesville, FL practice, he offers all of the cosmetic dentistry services listed in this post and more. To learn more about how you can improve your career success with cosmetic dentistry, visit his website or call (352) 332-8133.