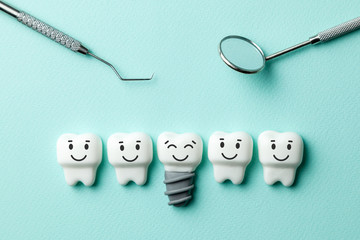 Tooth loss is a common issue that people face all throughout the country. The good news is that losing a tooth doesn't mean that you need to live the rest of your life without it. Dental implants are an excellent tooth replacement option because they have so many benefits. However, you want to be well informed before committing to the treatment, and that means knowing some of the lingo associated with them. Continue reading to learn a few dental implant terms that you should know.
Abutment
This is the connecter that's attached to the top of the dental implant. It serves as the attachment for the replacement tooth or teeth. It also helps to guarantee that the new replacement tooth stays firmly in its place without shifting around. An abutment tooth is a crowned tooth that supports and stabilizes a bridge or partial denture.
Ceramic
This is one of the materials that is used to craft the replacement teeth that are placed on the end of dental implants. It is made from a special type of clay and hardened by heat. This material is ideal because it results in natural tooth structure.
Crown
A crown, or cap, is used to replace or cover a single tooth that has been damaged, broken, or lost. They typically fit over an existing tooth, but in the case of dental implants, they are attached to the abutment to become perfectly grounded.
Dentures
This is a traditional way to replace missing teeth. However, you might not know that there are a few different types of dentures out there, like dental implant dentures. Instead of being held in by the natural suction of your mouth, they are supported by multiple dental implants. This allows for additional longevity and stability compared to traditional dentures.
Endosteal Implant
This is the most common type of dental implant that is used. Your dentist will place the implant into the jawbone via a surgical procedure. Each implant holds at least one replacement tooth.
Eposteal Implant
Instead of being placed in the jawbone, eposteal implants are supported by resting on the jawbone. This is not a very common option these days, but it may still be suggested in circumstances where a patient is at high risk of bone resorption.
Osseointegration
This is the process where the dental implant fuses with the jawbone. It increases the strength of both the jawbone and the dental implant.
By knowing more about dental implants, you can make a more informed decision about the future of your smile. You'll be showing off your pearly whites with pride again in no time!
About the Author
Dr. Gabriel Nossa earned his DMD degree from the University of Florida College of Dentistry and is committed to continuing education to keep his knowledge and skills sharp. Currently, he's a proud member of the American Dental Association, Florida Dental Association, and Alachua County Dental Association. For more information on dental implants or to schedule an appointment at his office in Gainesville, visit his website or call (352) 332-8133.