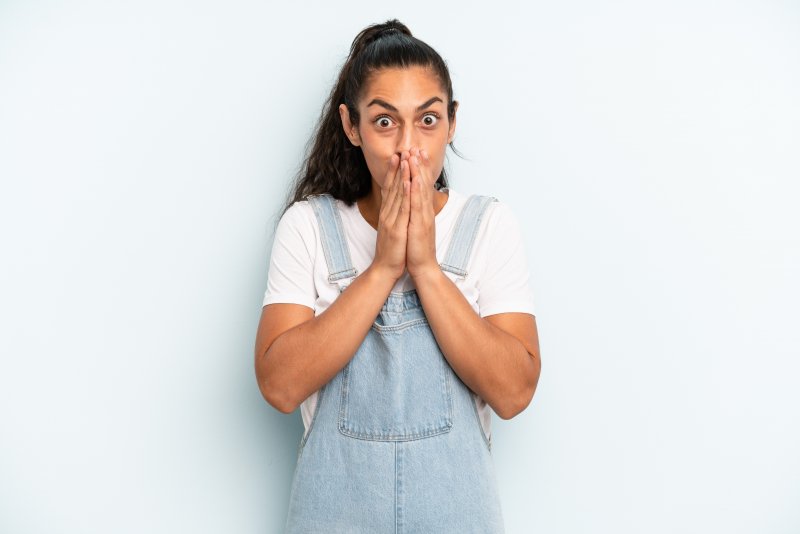 Veneers are one of the most comprehensive and sought-after cosmetic dental treatments out there. Not only can they conceal most imperfections in your smile, but they also offer a virtually permanent whitening solution that can last 20+ years! As durable as they are, it's still possible for them to come out accidentally. Keep reading to learn four things you'll need to consider if a veneer fell off until you can see your dentist!
#1: Remain Calm
Even if your veneer pops off while you're at work, out with friends, or spending a nice evening at home, you don't want to panic. Instead, it's best to take a deep breath, collect yourself, and begin the process of fixing the problem. The very first thing you should do is to find the veneer and store it in either a plastic bag or a small container with a lid. If you aren't able to locate it, then your dentist may be able to offer you a replacement.
#2: Notify Your Dentist Right Away
Whether your veneer fell off or you're experiencing a toothache, you'll want to contact your dentist as soon as possible. Once you arrive at your appointment, your dental team will be able to assess your situation and guide you through the next steps toward restoring your smile. You might consider calling even during non-business hours, as some dental practices provide specific instructions on their voicemail that you can follow until you can visit.
#3: Do Not Glue the Veneer in Place
It may be tempting to try to fix the issue on your own by using household products, such as super glue. However, not only will this be ineffective or risk damaging your veneers, but using non-ADA-approved ingredients can be detrimental to both your oral and overall health. To keep you and your smile safe, it's better to remain patient and wait for your dentist to provide the necessary treatment.
#4: Exercise Caution with Your Tooth
You'll want to practice caution when eating and drinking, especially if you have a few hours or a couple of days until your scheduled appointment. You may feel some sensitivity in the exposed tooth, so be sure to minimize your consumption of hot or cold meals and beverages. Try chewing on the opposite side of your mouth as well to protect your compromised tooth.
While having a veneer fall off may be unsettling at first, these few tips can help keep your smile safe until your dentist can treat you. Afterward, you can be sure to show off your new and improved pearly whites again!
About the Author
Dr. Gabriel A. Nossa earned his dental doctorate from the University of Florida College of Dentistry. He regularly seeks continuing education to advance his skills and is also a member of several groups like the Alachua County Dental Association and the American Dental Association. He offers a wide range of high-quality and comprehensive services, including veneers. If you'd like to set up an appointment, visit his website or call him at 352-332-8133.