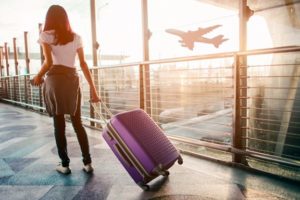 If you're an avid traveler, whether it's for business or pleasure, you're probably already thinking about your next trip. But if you've also recently gotten dental implants, or you're thinking about undergoing the procedure in the near future, you could be wondering if your upcoming travels might need to be put on hold. Here's more from your dentist about dental implants and the typical recovery process, and why you normally don't need to worry about it impacting your approaching journey.
What to Expect When Recovering from Dental Implant Surgery
Even though dental implant surgery might seem taxing and intensive, patients who take their recovery seriously and follow their oral surgeon's instructions rarely experience any complications or difficulties. As your implant posts fuse with your jaw, it's important that you protect your implant sites and prevent anything from occurring that might disrupt the healing process. This means that adhering to particular dietary guidelines, managing discomfort, and keeping your mouth clean are important practices that will contribute toward a successful recovery and set your new smile up for lasting success. That said, it's natural to wonder if traveling might cause unexpected delays or complications throughout this timeline.
Why You Shouldn't Worry About Dental Implants Impacting Your Travels
You'll be happy to hear that traveling, whether by land or air, is rarely a major health or safety concern after dental implant surgery; however, depending on the complexity of the surgery and the number of implants placed, it might be recommended that you wait a certain number of days before embarking.
For single dental implants with little to no preparatory work, patients can often fly immediately. However, for complex surgery such as multiple dental implants, a supplemental bone graft, sinus lift, etc., it is generally recommended that patients wait up to two weeks before flying on a plane; that said, this downtime is relatively minimal and simply ensures that you're comfortable and able to recover without difficulty.
In any case, patients traveling by air after dental implant surgery can take a standard painkiller before the flight if they're worried about discomfort, and they can access soft foods at the airport terminal to ensure that they aren't eating anything that might harm an implant.
If you have missing teeth that you need fixed, there's no doubt that getting dental implants is perhaps your best option. But if you're worried that it might impede your ability to travel, don't fret; you won't be out of commission for very long, if at all!
About the Author
Dr. Gabriel A. Nossa received his DMD from the University of Florida College of Dentistry and has proudly served patients and families in the Gainesville, FL community for several years. His practice offers a wide range of services including restorative options like dental implants. If you have any questions about dental implants or would like to schedule a visit to see if you're a suitable candidate, you can contact Dr. Nossa through his practice's website or over the phone for assistance: (352) 332-8133.